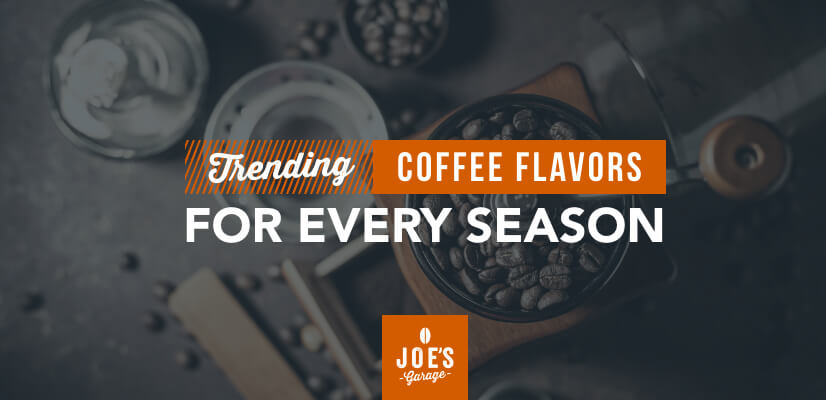 As one season fades into the next, your palate changes. Whether it's winter, spring, summer, or fall, specific flavors evoke the nostalgia and feelings surrounding each season. As Thanksgiving draws near, your taste buds crave all things pumpkin. Meanwhile, summer calls for something zesty and refreshing, like tart berries. It's always helpful to know which seasonal coffee flavors are trending.
Coffee drinkers are always excited for limited-time seasonal flavors greeting them like long-lost friends. Some flavors match specific seasons. Here are some of the most popular coffee flavor trends for each season.
Coffee Flavors for Winter
When the weather turns frosty, there's nothing like a hot cup of joe to warm your fingers and toes. Winter is prime time for flavored coffee. With its chilly weather, this season creates emotional connections. Coffee drinkers think of their favorite holidays and time spent with family and friends over a hot cup of coffee.
In winter, coffee drinkers generally reach for celebratory offerings that pluck at their nostalgic heartstrings or cozy options to warm them through these cold-weather months. Winter is famous for indulgent flavors with assertive notes, incorporating powerful spices. Popular coffee flavors for the winter include the following.
Peppermint
Peppermint is synonymous with winter. Red-and-white-striped candy canes are a lasting symbol of the year's coldest months and the holiday spirit they inspire. Peppermint provides that invigorating pick-me-up needed on a cold winter morning. You're sure to spark nostalgia with a simple peppermint latte. All you need is some:
Espresso
Milk or milk substitute
White chocolate
Peppermint syrup
The understated white chocolate backdrop will allow the peppermint to shine through. You can add peppermint bits on top to create a colorful, festive finished look. After all, one of the defining factors of craft coffee is its presentation.
Spice Blend
Mixing a few teaspoons of spice with your coffee grounds can result in some perfect winter drinks. Something about the cold weather makes coffee lovers long for aromatic spice blends. An ideal winter spice mix might include:
Cinnamon
Cloves
Orange peel
You'll want to add this blend before brewing. You can play around with proportions until you find a mix with a distinctive, comforting taste. You might pair your spice blend with coffee beans from Brazil, as Brazil-based beans tend to have a nutty and chocolatey flavor profile sure to complement your spices. A lighter roast will allow for a more emphatic impact from the various spices. Spiced coffee is a winter favorite perfect for those who drink coffee black.
Eggnog
Combining the classic eggnog flavor with a robust, dark-roast brew creates a luscious taste experience. All you have to do is heat up the eggnog, not quite to a boil, and stir it into your coffee of choice.

You can blend the mix until frothy if desired. Nutmeg makes a delightful topper for some added color and interest. If you'd like to make from-scratch eggnog, you'll need:
Milk
Egg yolks
Honey
Cinnamon
Nutmeg
Cloves
Vanilla extract
You'll blend everything and then cook until thickened into the classic eggnog texture. If you wish, you can spike your eggnog concoction with bourbon, rum, brandy, or a dash of all three. Paired with spirits or not, a warm eggnog coffee will liven anyone's spirits.
Gingerbread
What's winter without gingerbread? You can recreate the sweet and spicy flavor of the traditional baked goods within your coffee. You'll need a well-blended mixture of molasses, brown sugar, ginger, and cinnamon. Once you've combined your spice mix with your coffee, you can garnish it with cloves and whipped cream. It's sure to be a hit over the holidays.
Sugar Cookie
For coffee drinkers in the mood for something sweet, a sugar cookie coffee will hit the spot. Sugar cookies are indulgent holiday favorites with a distinctive flavor. To make sugar cookie coffee, combine melted white chocolate, vanilla syrup, and almond extract with a mild-brew coffee and creamer.
Chestnut and Praline
Chestnuts are another classic flavor for the colder time of year. Chestnut complements the sugary, nutty taste of praline confection. To mimic the flavors, you can mix brown sugar, milk, vanilla extract, and frothed cream, topped with pecan bits and ground cinnamon. You might opt for a ready-made chestnut-praline syrup. Either way, you'll create a warm, tasty beverage.
All Things Hot Chocolate or Mocha
So many spices and nuts lend themselves to some complicated recipes, but there's no need to overthink it. Everyone loves a simple chocolate-flavored coffee. For a classic mocha recipe, you'll want to create a chocolate syrup from cocoa powder, sugar, and water. You'll steam and whisk it with either coffee or espresso. You'll then add milk, whipped cream, and a chocolate syrup topping.
You could also combine two winter favorites for a delicious peppermint mocha recipe. It's the perfect combination of sweet and spicy for a brisk December morning. To create it, you'll add a mint syrup made from water, sugar and either mint leaves or peppermint extract. Top it with peppermint pieces and chocolate syrup.
contact the private label coffee experts today
Coffee Flavors for Spring
Springtime means warm rains, bright flowers, and new life. As people roll out of cold-weather hibernation, their taste buds begin to change. A fresh menu is in order, including flowery, earthy flavors. It's also the perfect time to break out St. Patrick's Day-themed drinks, like Irish cream and green matcha. These refreshing flavors go hand-in-hand with the milder spring months. With spring's unpredictable weather, you may want to use these flavors for either hot or iced drinks.
Lavender
Nothing says spring like the light, flowery taste of lavender. It's sweet and woody with a gentle bitter aftertaste, which you can indulge in or sweeten. Lavender syrup is easy enough to make, requiring only dried lavender, water, and white sugar. You can combine it with your preferred milk and coffee. Since lavender has an intense flavor, it pairs best with strong brews made from South American beans.

A lavender iced coffee or hot latte is sure to impress.
Rosewater
You can complete your coffee flower-flavored garden with a rose blend. Rosewater is floral — not quite savory and not quite sweet. A little bit goes a long way. Add hints of lemon, honey, and cardamom for a thorough flavor profile. You might sprinkle in a few drops of pink food coloring and top with dried rose petals for a beautiful finished look.
Irish Cream
The perfect coffee flavor in preparation for St. Patrick's Day is Irish cream. It'll have a bit of a kick, with a healthy portion of Irish whiskey. Combine the alcohol with a strong-brew coffee and an Irish cream. The cream will create a frothy, sweet flavor to balance the bitterness. An Irish coffee recipe varies from an Irish cream coffee recipe — Irish coffee uses brown sugar rather than cream. Either one is perfect for ushering in the springtime with a St. Paddy's celebration.
Green Matcha
Green is the color of spring, and matcha is the tastiest green drink you can make. When you combine green matcha tea with espresso and milk, you'll create the perfect festive drink. A dash of matcha on top will preserve the desirable green color.
contact the private label coffee experts today
Coffee Flavors for Summer
Those hot summer months are the perfect time to break out chilled beverages, including iced and frozen coffee flavors. Coffee drinkers crave summer flavors that quench their thirst, refresh their palate, and have a bit of sparkle. All kinds of zesty, fruity flavors are ideal for the summertime. Here are some of the latest summer coffee trends.
Citrus
Summertime and citrus make a perfect pairing. Citrus flavors lend themselves to bright, exciting summer drinks. It's a good idea to pair a citrus coffee with a compatible bean. Arabica beans, which originate from higher elevations, contain citric acids. You might make coffees from any of the following citrus bases.
Orange: A little bit of orange zest can add a lot of brightness to a cup of coffee. Bright, tangy oranges provide a perfect summer flavor. All you have to do is let your brewed coffee pass over a tiny amount of orange zest to create a memorable taste sensation.
Lemon: Everyone loves an ice-cold cup of lemonade on a hot summer day — why not combine lemon with your coffee for a sharp morning burst? Adding some fresh-squeezed lemon juice with your cold-brew coffee will lend itself to a tasty morning beverage.
Lime: You can make a fresh, unique iced coffee with some lime juice. On a hot day, you could combine lime juice, cold brew, and tonic water for a sparkling citrus drink like no other.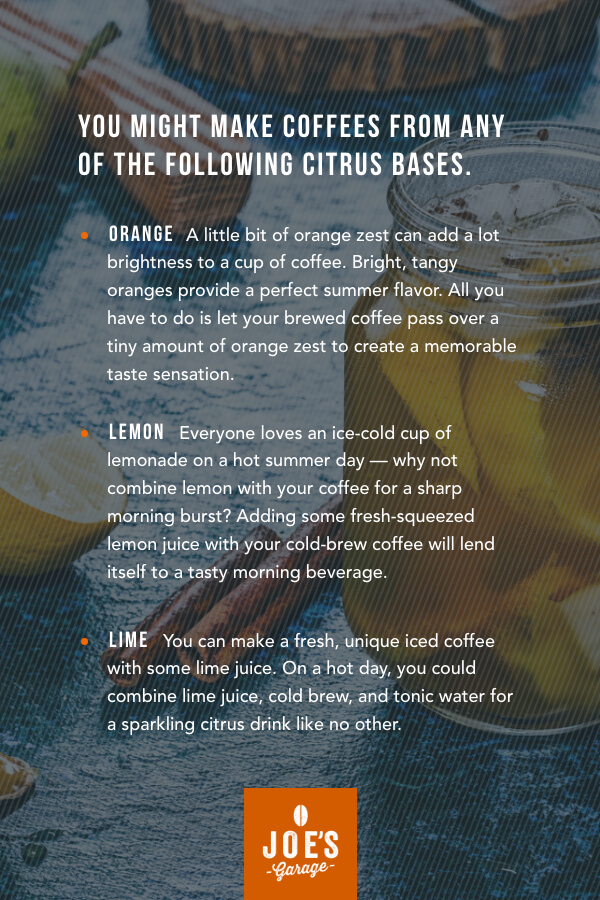 Tropical Flavors
Tropical flavors are ideal for the summer. Try a refreshing, sweet frozen coconut coffee, using coconut milk, vanilla syrup, and cooled coffee. Blend using coffee ice cubes for a fuller, richer flavor. Top with whipped cream and coconut flakes. It'll taste like an island cocktail milkshake mixed with morning coffee, sure to put you in a good mood.
Hibiscus
Hibiscus are large, brightly colored flowers found in temperate and tropical regions. A hibiscus drink's deep purple hue reminds you of all the season's warm, exciting colors. It offers a fruity flavor with cranberry-like tartness. Hibiscus is better known as a tea flavoring, but it can also make a tasty summertime drink for coffee lovers. You can find hibiscus-flavored coffee beans, combined with hints of blueberry, lemongrass, and other fruity flavors. Or, you can whip up a batch from scratch by running beans through hibiscus flavoring or dried flowers.
Iced Brown Sugar
If you want a change from tropical, flowery flavors, an iced brown sugar latte will hit the spot. Brown sugar reminds you of tasty, fresh baked goods, so it's the perfect flavor for the summer. An iced brown sugar latte recipe calls for brown sugar, cinnamon, and vanilla extract along with espresso and milk.
Warm Summer Drinks
For those who prefer hot coffee all year long, flavors that remind drinkers of camping and bonfires are a summer hit, such as s'mores-flavored coffee drinks. Top a hot mocha coffee with crushed graham crackers and mini marshmallows to add to the effect. It'll be a delicious treat on a cool summer evening.
contact the private label coffee experts today
Coffee Flavors for Fall
As the days get shorter and the temperatures start to feel cooler, flavor cravings change yet again. Coffee drinkers reach less for bright, zesty flavors and more for warm, comforting herbs and spices. While pumpkin spice reigns supreme over this season, fall also calls for hints of crisp apple and sweet maple. We can sum up this season's coffee trends in one word — cozy. Some of the most popular autumn flavors include the following.
All Things Pumpkin
While pumpkin may not be a new coffee flavor, fall would not be the same without pumpkin spice lattes. It reminds the drinker of slicing into a Thanksgiving pumpkin pie with friends and family. It's the perfect source of comfort as summer's warmth fades into the chill of autumn. You can make your pumpkin spice with a few pinches of warm, earthy spices like cinnamon, ginger, nutmeg cloves, and allspice.
You'll find many variations of pumpkin spice latte recipes online, but most call for milk, pumpkin puree, sugar, hot coffee, and spices. You can make it to your taste, using lighter or darker roasts and more or less sweetening milk and sugar. In any case, pumpkin spice latte is a perfect drink to sip on as you watch the first leaves start to change colors.
Apple Cider
Apple cider is a quintessential fall flavor, second only to pumpkin spice. Warm apple cider by itself is delicious, but it's even tastier mixed with your morning coffee. You can create the effect by combining coffee, apple juice, cinnamon, cloves, and brown sugar. All you have to do is stir everything together on the stovetop and cook on low heat. The brown sugar and sweet apple juice will make the coffee decadent and delicious, but not over-sweet.
Chai
Chai is another classic combination of seasonal fall spices. Most chai lattes use black chai tea, but you can also create a chai coffee latte. Chai is a mix of several spices, which can vary from one recipe to the next, but it always includes cardamom. Other spices tend to be:
Cinnamon
Ginger
Cloves
Star anise
Less popular additions might include pepper, nutmeg, fennel, or coriander. Combined with coffee granules, milk, and granulated sugar, the spice blend makes for a tasty fall-themed coffee. You can also add fresh-peeled ginger for a stronger impact.
Maple
While most fall drinks use spice flavors, you can quell an autumn sweet tooth with a maple-flavored coffee. You'll combine maple syrup with cinnamon, vanilla, espresso, and milk for a toasty, sweet fall drink. It'll taste like your favorite morning pancakes.
contact the private label coffee experts today
Year-Round Popular Coffee Drinks
Of course, it's always wise to keep some non-seasonal staples on hand. Some flavors are more seasonal than others — for instance, pumpkin is synonymous with autumn, and frozen tropical fruit coffees are best-suited for hot summer days. However, you might continue making a few drink flavors all year long. Some potential staples might include the following.
Hibiscus: Since these flowers grow in temperate regions, they're available year-round. Most coffee shops keep hibiscus on the menu no matter the season. An iced hibiscus coffee is ideal for summer, while a warm hibiscus drink can brighten your senses on the coldest day.
Chai: The chai spice blend is a hit regardless of the season. The refreshing taste of cardamom, cinnamon and ginger is lovable any day of the year.
Mocha: It's tough to go wrong with chocolate during any season. A hot mocha will warm you up, whether it's the dead of winter or a breezy summer night.
Get Your Seasonal Coffee Flavor Offerings at Joe's Garage Coffee
Every few months, coffee drinkers crave different flavor profiles. In the winter, they love nostalgic sweet and spicy options, like gingerbread and peppermint. When the weather starts to turn warmer, they opt for sweet, flowery flavors. By the time summer rolls around, coffee drinkers want something zesty and exciting to sip under the sun. As the year winds down, comforting spices become a coffee drinker's go-to.
It can be challenging to keep up with changing seasons, and even more so to stay abreast of evolving flavor preferences. As a private-label coffee manufacturer, Joe's Garage Coffee is home to industry experts. We can help you stay on-trend from one season to the next, ensuring you have the seasonal flavors you need to keep your business current with the times. Find out how we can customize our unique services to meet your needs by contacting us today.