Do you have an amazing wholesale coffee product you think would thrive in retail aisles? If you're ready to take your wholesale coffee business to store shelves, you'll need to learn how to sell retail coffee product ideas to retail representatives.
Each year, retailers receive pitches regarding hundreds of products. Making your coffee product stand out from the competition is essential to getting it on store shelves. Raise your chances of earning shelf space by understanding market research, brand messaging, and how to sell coffee in a way that directly appeals to retail buyers. Read the seven steps below to discover how to sell coffee products wholesale to retailers effectively.
1. Study Your Target Market
The people you want your product to serve will guide your product design and development. Before you even begin to brainstorm different coffee blends, you need to figure out your target audience. Narrowing down your ideal market to a key demographic will help keep the rest of your product development process focused and productive.
Once you've zeroed in on your intended buyers, you can start studying that demographic to find out what they're looking for in their coffee products. For example, millennial coffee sippers might want something trendy and environmentally conscious, whereas older coffee drinkers often prefer classic brews with straightforward packaging.
Start getting to know your target market by researching their buying habits and what type of beverages appeal to them most. You can also send out surveys and polls to potential buyers to get direct input from them. Ask them anything, from whether they prefer bold or light roasts to what type of logos and color schemes they're attracted to most. This data will help inform what kind of product you create, how you package it, and how you go about selling it to consumers.
2. Create the Perfect Coffee Blend
Once you've familiarized yourself with your target market, you can start creating your product. When you embark on the journey to the perfect coffee, you'll need to focus on three main details — sourcing, sampling, and testing your coffee beans. Below, you'll discover how to navigate each of these steps.
Sourcing
Allow the flavor profiles you want your coffee to showcase to steer you toward your coffee bean supply source. The green coffee beans you use will bring different flavors to your cup, depending on their native climate. For instance, if your goal is to brew a coffee with a fruit-forward taste, start looking for coffee beans from countries like Colombia or Ethiopia.
Along with the preferred flavor profile and countries where your green coffee beans originate, several other factors can influence your sourcing decision. These variables include cost, availability, processing methods, business ethics, or even the political climate of some countries. If you plan on roasting your beans yourself, you'll also need to choose between working with coffee importers or direct sourcing from farms.
These are the pros and cons of working with importers and farms:
Importers:

Importers source and distribute unroasted coffee beans to roasters. This approach grants more control and continuity over your coffee bean supply because importers design a flavor profile for each coffee and guarantee quality. However, a lack of relationship with your farmer may lead to higher prices.

Farms:

Sourcing your green coffee beans directly from a farm allows you to build a relationship with your farmer, which often comes with higher transparency and lower prices. However, the actual exporting process may be more challenging and costly because you'll need to find an exporter to help transport the coffee beans across borders and inland.
Whichever supplier you choose, make sure you can rely on having access to the number of coffee beans you need whenever you place an order. Once you've received your green coffee beans, you can send them to a professional toll-roasting team to have them roasted and packaged however you want.
On the other hand, you can roast your green coffee beans on your own and send them to a company that offers co-packaging. This strategy takes care of the packaging for you so you can focus on creating the best coffee possible. Some companies, like Joe's Garage Coffee, even provide roast-to-order services, which are a full-service option in which the company will source the green coffee, roast the beans, and package the product for you.
Sampling
Regardless of the coffee bean supplier you choose, you'll need to sample your potential partner's product before deciding to buy. During the sampling step, you get to experience how your blend will taste to customers before committing to it.
When you're ready to start sampling, follow these steps:
Request:

Ask for samples of each coffee you want to try from your potential suppliers.

Receive:

The suppliers will send you enough of each requested coffee for you to get an accurate sense of each kind.

Roast:

Roast your coffee bean samples however you plan on roasting them to sell.

Review:

Evaluate each sample according to sight, smell, body and taste.
Testing
After deciding on a coffee bean supplier, you can mix, blend, and infuse your coffee beans with different ingredients to create the perfect combination of tastes and flavors. Tinkering with your recipe will give your signature brew a unique flavor that will make your coffee more appealing to stores and consumers.
Once you've successfully crafted your dream coffee blend, you can send it to a commercial lab testing service to ensure you're putting a high-quality product on the market. A professional lab can provide tests such as coffee color analysis, grind particle analysis, and more.
3. Study Your Retailers
Many retail shops are built around a company mission, which means they tend to look for products that fall in line with their mission or complement it somehow. For example, if your coffee product is packaged using recycled materials, it'll fit in perfectly on the shelves of a store that prides itself on being eco-friendly. Matching your product to the retailers you pitch to will make your success more likely.
Along with studying your retailers' overall message, you'll want to get acquainted with their general clientele. If the main portion of customers at a particular retailer doesn't align with your target market, you may want to reconsider pitching your product to that retailer. Instead, look for a retailer that caters to your target demographic. Following this strategy will give your coffee product a better chance of selling once it hits the shelves.
4. Create Your Packaging and Brand
Once you've perfected your coffee blend and set your sights on several viable retailers, you can start to design your packaging and build your brand. Store shelves are full of coffee options, so you'll want to create a packaging design that stands out among the competition. Set your coffee product apart from other coffee products by choosing a visually appealing logo, color scheme, and pattern for its packaging.

Another side effect of having numerous coffee products already on the market is limited shelf space. To accommodate this issue, you'll want to develop a packaging design that optimizes its space and fits nicely on a standardized and crowded store shelf. Once you have the size and shape of your packaging settled, you can start working on its design.
Packaging is vital for retail because the sales cycle generally consists of two back-to-back stages. First, the customer sees your product on the shelf. Your coffee product needs to be intriguing enough to inspire the customer to take a deeper look at your product. A simple yet stunning design can capture the attention of most consumers.
In the second stage of the sales cycle, the potential customer picks up your product and starts searching for signals that your coffee product would be a good fit for them. Use your packaging to form an emotional connection with consumers by sharing your story, emphasizing your values, or spotlighting a core element of your business that will move your customers. Bland, uninspired packaging won't be worthy of a second look.
The more you understand your target market, the better you'll create packaging that grabs their attention. Once you have consumers' attention, you can persuade them as to why they should choose your coffee over others. Make your packaging as targeted as you can to give your customers more confidence in your product.
Retailers are also more drawn to packaging with a positive brand message. Buyers want to put products on their shelves that are both high-quality and capable of building an ongoing relationship with their customers. Before you speak with buyers, make sure your product includes emotionally engaging packaging. Once you have packaging that conveys a message, your brand will be retail-ready.
5. Determine the Price for Your Coffee Product
Pricing your coffee product is quite simple. In general, most grocery stores and retailers sell coffee products at about a 15-50% markup. This percentage means that if a specific store sells bags of coffee for $12.00, the owners will want to purchase those bags of coffee from you for as low as $6.00. Keep in mind that the markup percentage can vary from store to store, so make sure you ask whichever retailer you're dealing with about their usual practices.
After figuring out what kind of markup percentages you need to take into account, ask yourself what profit margin you need to earn for you to consider retail worthwhile. Add up everything you spend on supplies, packaging, shipping, marketing (in and out of store) and operating costs and subtract this number from however much a retailer is willing to pay for your product.
Is the resulting number enough of a profit to make doing business with them worth it? To make answering this question easier, settle on a realistic profit margin you won't compromise on before reaching out to retailers. Maintaining a realistic target wholesale price and profit margin is key to helping you avoid overselling or underselling your coffee product.
6. Get Noticed by Local Retailers
You'll want to start with approaching local retailers before pitching to larger chain stores. Become acquainted with the owner of a local retail shop so you can learn about their store's customer preferences, buying cycles, and seasonal purchasing patterns. This information will prove helpful for knowing when to pitch your product.
Studying the store's floor layout will also give you a better idea of how the owner likes to display their products, their specific product categories, and what they might be looking for in the new products they consider. Demonstrating to the store's owner how nicely your product would sit on the shelves and how well its packaging would stand out could make them more likely to choose your product.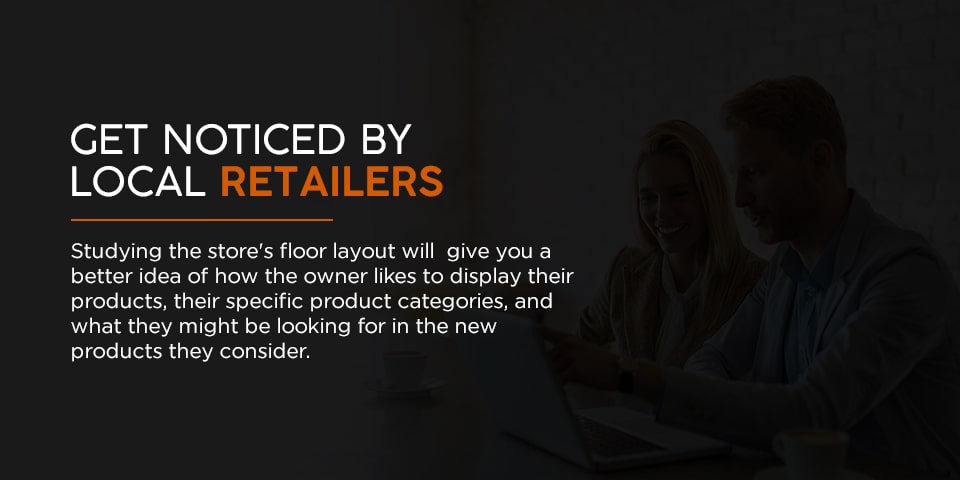 You can get your foot in the door with local retailers by using the three-pronged approach — sending emails, making phone calls, and visiting stores in person. In some cases, cold calling may be enough to get the conversation started and open the door to an in-person meeting. When you meet with a retailer, try to provide samples of your product and leave a sell sheet each time.
Because most retailers will want time to think over your proposal, giving them a sell sheet about the value of your product is a great way to leave them with a positive view of your brand. Your sell sheet should include your:
Wholesale and retail prices

Discount tiers

Product benefits

High-quality images

Customer testimonials

Customer ratings and reviews

Ordering, website, and contact information
You can also attract local retailers by launching a social media marketing campaign. Social media websites are perfect for spreading the word about your product because it can be free and reach a broad audience. You can also use social media to promote your brand message, interact with customers, and build brand relationships. Once your brand has gained traction on social media, your product will be significantly more appealing to retailers.
Regardless of whether you focus on social media, always have a rough outline of a marketing plan to share with potential buyers. Retail store owners will be more inclined to take a chance on your product if they see you have a solid strategy for winning customers and a sense of direction for your brand. Retailers may also require you to purchase their in-store marketing programs and it's a good idea to show good faith by participating in quarterly programs.
7. Keep Following Up
Stay in contact with local retailers after your initial meet-up. Keep opening your line of communication by following up on any conversations you've had with retailers. Additionally, send potential buyers you've met with an email thanking them for their time and consideration within a few days of your meeting. A thank you email is the first step toward building a lasting relationship with retailers.
Whenever you have a conversation with a retailer, try to take notes on any personal stories or other shared details. Referencing this information when you connect with them later will demonstrate that you take the time to listen and pay attention to the details. Forming a solid relationship with retail representatives will put you at the forefront of their minds when considering brands to stock.
Keep in mind that success rarely happens overnight, so don't get discouraged if getting your product on store shelves takes time. In fact, many retailers you reach out to may not even contact you back. However, casting a wide net and keeping the dialogue open will give you a higher chance of securing shelf space.
Why Work With Joe's Garage Coffee?
If you're trying to sell coffee to retailers, partner with Joe's Garage Coffee to create the perfect product and packaging – ready for retail shelves. At Joe's Garage Coffee, our services will help you craft your coffee product using either our beans or your beans and make it complete with attractive packaging.
Our promise is to provide outstanding service, superior quality, scalable capacity, and fast turns for all our customers. We set ourselves apart from other private label coffee companies by treating each customer with care and consideration. We customize our program to match your needs so you can have your product exactly when you need it.
To learn more about how Joe's Garage Coffee can help you develop a retail-ready product, contact us today.